I hope Rose finds this wee pug as charming as I do - especially since I'm the worst person to sew anything up!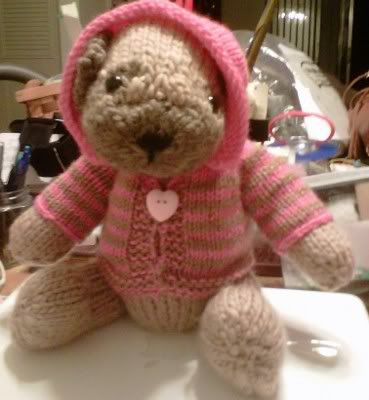 * * * *
The down and dirty details:
Yarn(s): 1 skein Bernat Roving (cork colorway) and 1/3 skein Bernat Roving (bark colorway) for pug; 1/2 skein
Plymouth Galway Worsted
(pink) and 1/3 skein taupe acrylic worsted.
Purchased:
Mary Maxim online
Needles: size 9 circs
Time: for me 40 hours; for most knitters, 12 hours
NOTES: If I were to knit more of these pugs, I'd skip using a chunky weight yarn and drop down to aran weight and use wool. The Bernat Roving pulled apart too easy while knitting and split like a gold-digger who's main squeeze got nailed by a hostile takeover.