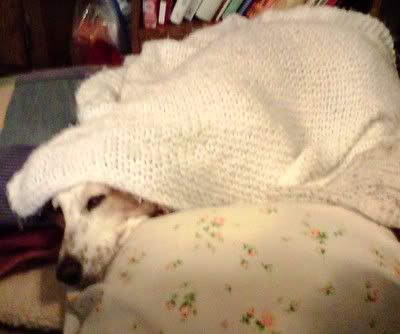 This was Tank about two weeks ago when it was still cold and snowing out.
Today is in the low 50's (F) and a steady rain.
Spring approaches in Iowa...
On the needles is the Tulips Baby Cardigan for Baby A arriving in a few weeks. I'm still in the increase stage, so the serious cranking along in knitting won't happen until tomorrow. The colors are adorable in the Encore Worsted and Encore Worsted Colorspun. Photos when it gets past the increase stage.
In the meantime, I've added booties to the roster of knitting for the bambinos heading this way via my friends in the procreation stage.
Booties 1:
Altered Saartje Booties
(no seams!)
Booties 2:
Mary Jane Booties
Some low drama this week: Tank had the goop coming out of her left eye. I was concerned she might have scratched her cornea goofing around outside. Off to the vet, one expensive bill later, she has
conjunctivitis
; yes, just like the human kind and yes, it's transferable to humans despite what I was initially told. However, I scrub thoroughly before AND after treating sick animals, so I'm sure I'll be fine.
Tank's been on the Bausch and Lomb antibiotic ointment for 48 hours now, and her eye is no longer inflamed or bright red (demon dog!)...although she gets kind of squinty when I first put the ointment in there.
Now, it's dinner for me and Ol' Squinty, then knitting in front of a lovely fire and some mindless cooking shows on PBS.