Tank isn't a garbage diver, countertop or table shark, and unless it's sweet or meat she won't eat stuff that drops on the floor. She doesn't bother my yarn or project bags for knitting, and can barely muster enough energy to push her pillow around before she settles down to sleep on it.
Imagine my surprise when I came home to find the tall Ziploc container (that I had left on top of her food bin as I've done dozens of times so far) was in the middle of the living room. Looking like this: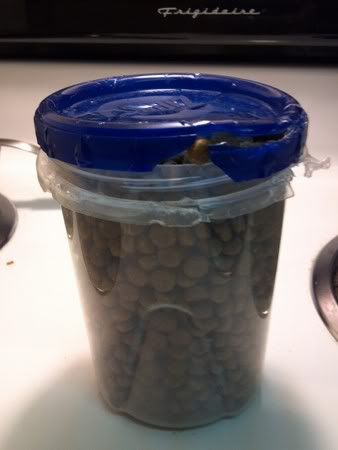 That's right Tank "McJaws" over here went to work on the container: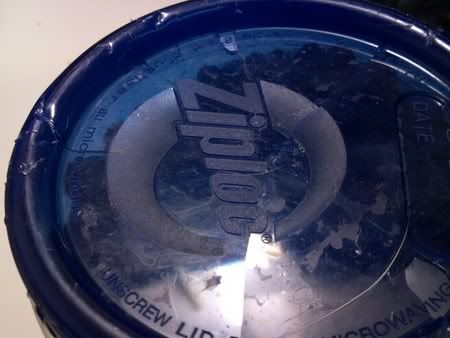 I found all the pieces she had chewed off. Her mouth wasn't all tore up as I had feared (no blood, none), and fuck me, that lid was still on the container tight enough that I had problems removing it.
Of course, Tank McJaws was busy giving me the stink-eye for whatever her personal reasons were while I was repackaging the dog food. Probably because I didn't give her a treat for her efforts.
Okay, now it's time for radio silence, bambinos. I have a sock to finish between Gran Duty and homework this weekend.
Sock Countdown: 50 hours. Okay, more like 10 hours...I'm not so uptight over this project that I'm willing to lose sleep or give up reading time.