Truth be told, some days I wake up and seriously wonder if it's May or July around here due to the unusually cool temps we've had again this year. Not nearly as frigid as last year, and the storms have been less severe and frequent. So I'm not knocking it as my AC bill would have me contemplating a diet of Top Ramen.
On to the knitting!
Since I ended 20 years in administrative assistant work at the end of May and began a new gig in healthcare in early June, I've not much time for knitting. I straggle along with my reknitting of the cashmere and camel yarn from a decade ago, the shawl I've started for someone languishes in its Ziploc sleeping bag in the work basket, and the mittens aren't even on the needles for that other friend.
But I did whip out a baby sweater for a new arrival due in a few weeks to one of my favorite people!
I went with the six month size indicated on
the pattern
, the child may have a large brain case as her daddy did when he was born. If not, it'll be a nice fall sweater. I'm not sure I'll make this pattern again. It was easy to follow, quick to finish, but squirmy babies and pullovers are a pain in the ass. I'll go back to the cardigan pattern after this one.
It's for a baby girl and since I'm not one to conform to society determined "traditional" gender-colors (pink/blue), I chose a hand-dyed silver lavendar color for the main body, and a deep teal blue for the color and stripes. Yeah, I didn't follow the pattern for using one color for the whole sweater either. (You're not the boss of me!)
The stripes are made up of the teal yarn carried with a thinner silk/rayon yarn that have glass seed beads, and I was told by the company I bought them from, stated that the beads are on a rayon thread tested to 200 lbs. If that baby can manage to rip those beads off, the couple have a sumo wrestler on their hands!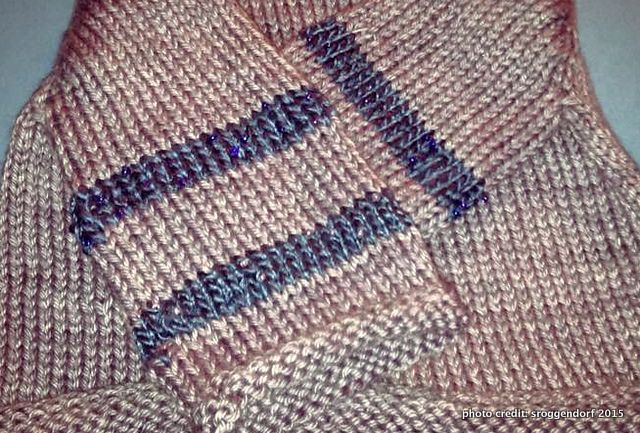 * * * * *
Needle
US 7 - 4.5 mm
Yarn
Madelinetosh Pashmina Worsted Onesies
Weight
Worsted / 10 ply (9 wpi)
How much?
0.9 skeins = 189.0 yards (172.8 meters)
Colorway
Curiosity
Purchased at
Jimmy Beans Wool in Reno, Nevada
Yarn
Tilli Tomas Pure and Simple
How much?
0.1 skeins = 26.0 yards (23.8 meters), 10 grams