It's been a bizarre weather pattern for our winter season.
Yes, we've had cold, but very little of the bone-cracking freezing temps that make us all wonder what the hell we're doing in the Midwest in late January. (Not complaining.)
Yes, we've had snow, but not the huge piles or at least one blizzard. (Again, not a complaint.)
And now there's May weather for the second week of March. Many people I've talked to here are like me, a bit concerned. Throw a massive snow storm at us, fine. The other shoe to drop, though, may be a horrendous set of thunderstorms with freakishly huge tornadoes in the middle of it. May is tornado season, and if we're having May weather...
Okay, to distract us from that thought, the contents of the Gran's kitchen spice cupboard!
I went through it for her a few weeks ago. There were things in there that I'm sure hadn't really seen the light of day since they were bought and put away. Case in point are these spices. Many of them were very old and useless. These were in poor condition, not collector condition, so they had to be thrown out. (Yes, I did check to see if they were worth anything. Hey, I've watched the "Antiques Roadshow" since it aired on PBS in 1997!) Heave-ho, away you go!
This was by the Euclid Coffee Co. And no, it was a sadly falling apart cardboard box,
not the rare tin
.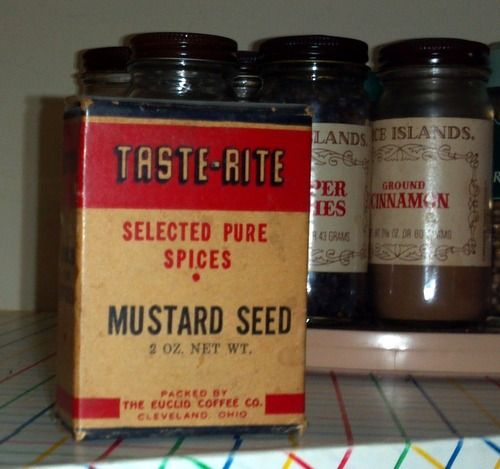 The rest are still fairly recognizable for those of us that have at least been in our grandparents' kitchens: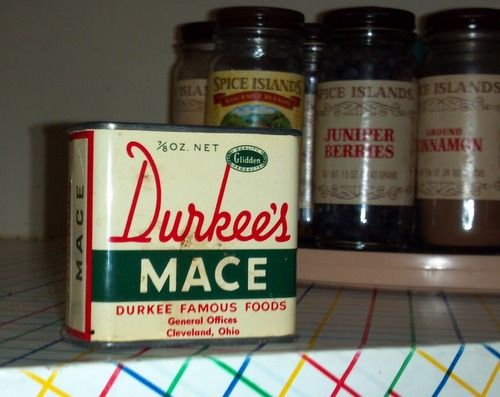 And I still use
Colman's dry mustard
for cooking (deviled eggs).
Here's a brand I didn't even know about until I read the tin (again, it wasn't worth anything for the Gran). Apparently the
National Tea Co.
was around for quite a while, and ended up as part of Schnuck's for a while. FYI:
NATCO
is an Indian spice and food business.
Writing about spices, this weekend I'm going to cook
Chinese tea eggs
with the spices from Ancient Wisdom and tea from Bigelow.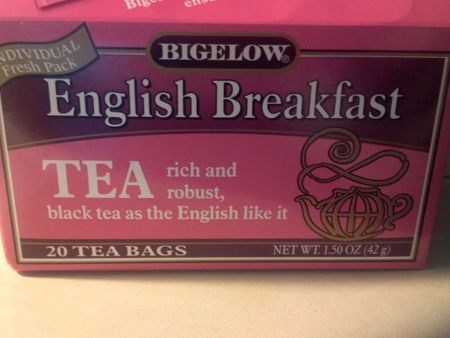 There's so much to love at
Ancient Wisdom
. The shop smells wonderful, and being a tea drinker, I have a wide array of choices there. Plus, this is the shop that carries my favorite cooking spice: Five Elements - Fire. Also, they carry tea cups, mugs, tea pots. Finally, great acupuncture services!
Did I say finally? I have to add this - now there's one of my favorite extracts there: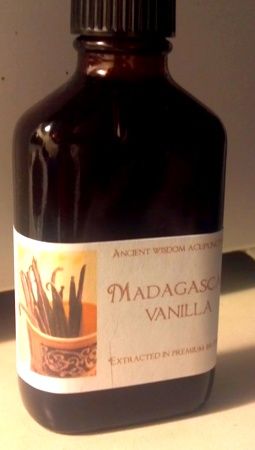 What? Knitting? Sure, between work, cooking, baking, and homework! Mitten one is 70% completed: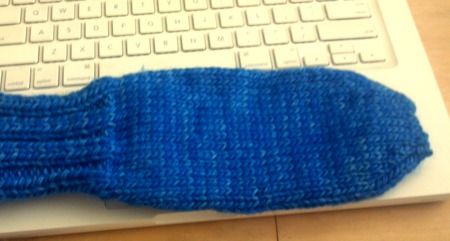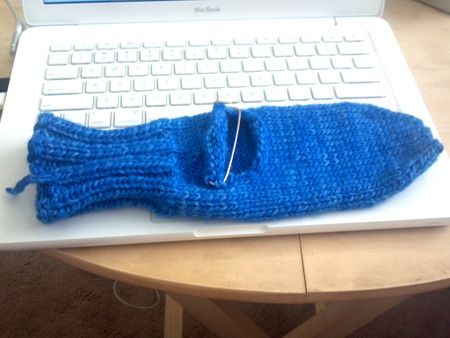 And I may have fallen down a bit and
bought yet another sweater pattern
. I think I'm getting close to critical mass on sweater patterns and declaring this fall the season of "Knitting Myself An Adult Sweater." However, it may
be a shrug
that gets thrown on the needles first.
It all depends on how well my sanity holds out working a full-time job and doing a practicum to finish off my master's degree from May 2012 through March 2013.