Things have been busy at Casa del Tank. The weather has been nice enough, and dry enough, that the girl and I have gone for a few strolls. This has worn the Tank out:
The Cold Virus from Hell left me a parting gift of a wicked terrible and painful sinus infection.
I'm wrapping up things to move to the next phase of my degree work.
I'm trying to get in better condition for the American Heart Walk coming up soon.
And after reading the directions for the shark mittens incorrectly, I tried to create two thumb areas in one mitten.
I blame the lack of naps this weekend.
I frogged it a bit and then re-read the instructions to clearly mark "right hand mitten" and "left hand mitten." Now I'm about 60% finished with the first mitten. Not a great photo...taken on my Mac as the camera battery needed a recharge. And I'm wearing it on my left hand even though it's a right hand mitten.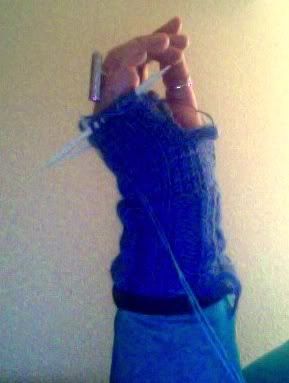 All in all a busy (and at moments confusing) time around here. Thank goodness for the unwavering affection of the Tank, and my knitting.