It's supposed to hit a low overnight on Sunday/Monday of -21F degrees here. Our normal low is usually 0F to -5F degrees. Mother Nature has been honked off at us since October around here.
What extreme cold drives me to do... Re-purpose, reduce, reuse, recycle. My watch words for fiber as well as other goods.
Since I knew frigid weather was coming up, I took out a scarf I had knit up back in October 2013 (thank you, Ravelry for the date help!), and frogged it. (I'd worn it a total of 2x last year.) And then reknit it shorter and wider than I had done before:
Then I dug around in my stash for the last remaining bits of my precious ggh Cashmere (aran weight) I've had since 2007, and crocheted a bit around the scarf and on the ends. Then I basted on a rabbit scarf that had only seen the light of day about 1x per year (and then carefully stored away the rest of time) since it was gifted to me several years ago.
After basting it on the edge, I went back and crocheted around the edge with the remaining ggh yarn. (The rabbit ain't going nowhere until I remove it!)
The result is a beautiful, warm, three kinds of exquisite soft going on. And damn it, I'm worth it.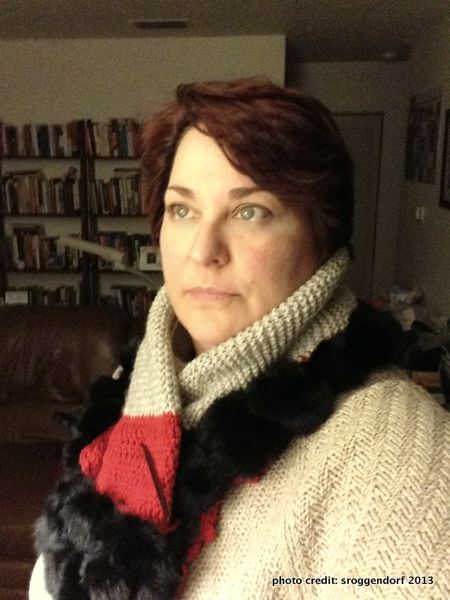 * * *
US 9 - 5.5 mm
- - -
Yarn
Classic Elite Yarns MountainTop Chalet
How much?
196 yards, 100 grams 2 skeins = 196.0 yards (179.2m)
Colorway
grey
Purchased at
Home Ec Workshop in Iowa City, Iowa
- - -
Yarn
GGH Cashmere
How much?
128 yards, 50 grams 2 skeins = 128.0 yards (117.0m)
Colorway
red
Purchased at
The Yarn Shoppe
January 6, 2007