For the past week, my neck of the woods has been 15-20 degrees (fahrenheit) below normal for this time of year. Next week isn't looking much better. Tank is relatively unfazed by the cold. Although she's taken to snoozing on my reading blanket more often.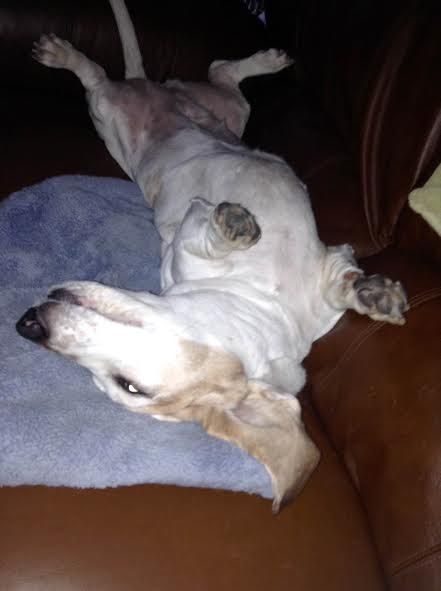 Of course, I've been thinking about knitting wool socks for myself, but a friend requested a scarf. Her hair is short, and she's usually feeling chilled when the temps drop below 70F.
Luckily for her, I've decided that 2015 is the year of Using Up The Stash, this gives me an jump on that goal.
I knew I had the angora which I had purchased under the delusion I would look elegant in a cardigan of 100% angora, instead of a rabbit fur-covered version of Violet the blueberry from
Willy Wonka and the Chocolate Factory
.
I pulled the pale blue angoa yarn from the stash. However, I knew my friend would need a bit more substance in her scarf for added warmth, I also pulled my two skeins of Malabrigo Silky Merino in off-white that had been lounging in the stash.
Next, I didn't want a scarf for her that constantly needed adjusting, and she wears hats to keep warm. I like cowl scarves as they can also be pulled up and used as a head scarf, too.
I pulled out my SNA circs (size 8 US - 24") and got to work. As I have that whole work thing during the day, then cooking-chores-errands-sleeping taking up precious knitting hours after work, I'm only at 50% after 6 days of knitting.
Next up, continuing the parade of dishcloths for the girl and her beau. They've moved into new digs, and I've wanted to give them something for their kitchen as we're a family that takes our food to heart with delighted passion.
I'm mainly using garter stitch or bee stitch for the dishcloths. I'm using Dishie (KnitPicks) from the stash, Sugar'N Cream (Lily) from the stash and some bought on sale at Jo-Ann Fabrics.