I did fairly well this year given I had a massive amount of free/knitting time eaten up studying for my boards exam.
January 4 - Three Kinds Of Soft scarf (mine)
January 11 - Tricor Lux ruffled scarf (Tulisa)
January 25 - Cabled Collar Scarf (Brenda)
February 9 - Cafe Slouch Hat (Nancy)
February 22 - Sweater Repair (Monica)
March 12 - Twisted Carrot Hat (Stephanie)
March 19 - Dead Fish Hat IV (Cathy)
April 1 - Twisted Lettuce Headwrap (Jolene)
May 17 - Fingerless Mitts (Kimmie)
June 27 - Tulips Sweater Modified (Ruby)
August 24 - Drop-Stitch Wrap (Christy)
October 1 - Cashmere Cowl (Karen)
November 2 - Ribbed Bolero Shrug (mine)
November 18 - Silky Merino Angora Cowl (Nancy)
November 27 - Dishcloth Mania (Seneca)
December 4 - Beauregard, the Cabled hat (Seneca's beau)
December 10 - The Beau Scarf (Seneca's beau)
December 14 - Scrunchie Hat II (Seneca)
December 31 - Thumper Scarf (TBA)
I think out of all the projects, this is by far my favorite and I'm totally prejudiced because Rubylicious is one of my favorite wee people: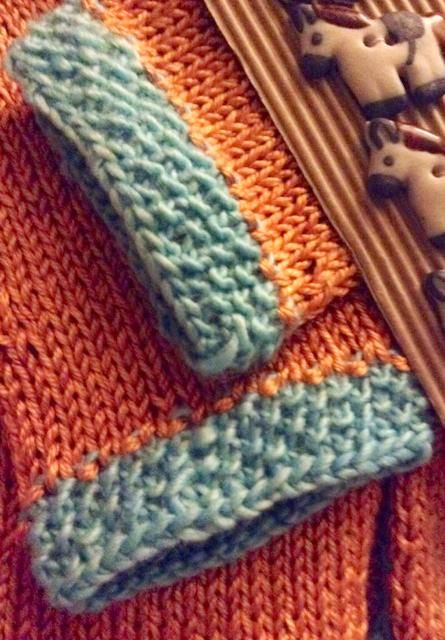 Rubylicious in cookie action mode: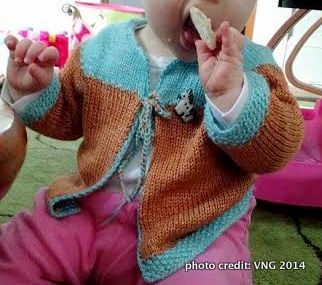 The sweater is my absolute baby sweater "go to" design by Lindsay Pekny -
Tulips, A Colorful Cardigan for Baby
The yarn was Malabrigo Silky Merino in turquoise color (bought at
Knit & Knot
) and two strands of Handmaiden Fine Sea Silk in pumpkin color (bought from
Knitty Noddy
ages ago). Horse ceramic buttons (Rubytastic was born in the Chinese year of the Horse) bought via Etsy.