Not that I don't have enough projects to keep myself busy, but I decided I wanted to knit myself something for this fall and winter.
It was a toss up between socks or a hat, and the hat won. And y'all know I like a good hat pattern! So I went spelunking in Ravelry and came up with
Acadia
. Just charming design and affordable, and I do enjoy those cable/texture knits, too.
The next step was deciding the color(s) for the winter hat, and since I have blue winter accessories, I poked around my storage tub and noticed I have no hat for my red and black accessories (my beloved cashmere scarf and cashmere hand warmers). Red and black Malabrigo Rios (super wash) was the ticket. So off I went knitting a wool hat during one of the hottest weeks of the summer. (Praise to the invention of AC!)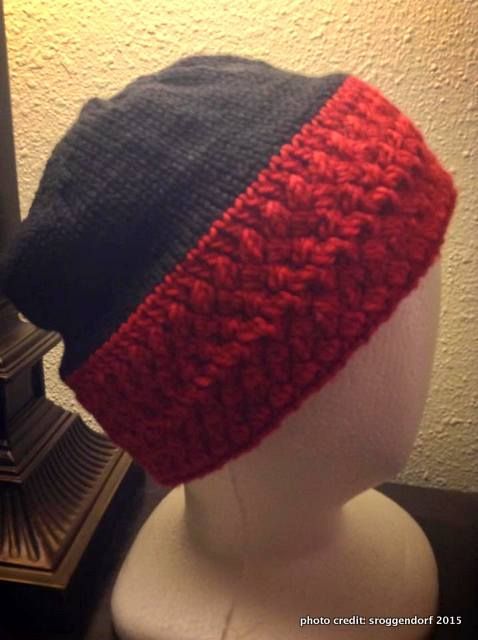 I. LOVE. THIS. HAT.
It's not quite finished, it's been washed and now blocked and drying. Once it's dry, I'll stitch up together the liner with the cabled band.
I followed the suggestion of the designer and went down two inches for the size due to how it's supposed to fit (rather snug). It fits beautifully for the circumference as suggested by the designer. However, due to the shape of my head, I added another 1/4" to the hat before decreasing for the crown (size 4 in the pattern).
* * *
Needle
US 6 - 4.0 mm
Yarn used
241 yards, 1.15 skeins
Yarn
Malabrigo Yarn Rios
0.65 skeins = 136.5 yards (124.8 meters), 65 grams
Colorway: 611 Ravelry Red
Purchased at
Knit & Knot in Bettendorf, Iowa
Malabrigo Yarn Rios
0.5 skeins = 105.0 yards (96.0 meters), 50 grams
Colorway: Black
Purchased at
Jimmy Beans Wool in Reno, Nevada