The great thing about telecommuting is that during a conference call and between reading emails and working on a report, I got to knit.
A lot.
And finished this plain garter stitch scarf: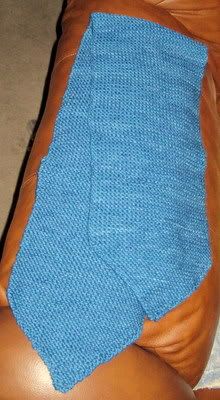 * * * *
The down and dirty details:
Yarn(s):
Malabrigo Yarn Twist
, Tuareg
Purchased:
Loopy Yarns
, Chicago
Needles: size 8
Time: for me - 8 hours (a minor miracle for me!); for most knitters, 3-6 hours
* * * *
Meanwhile, my order from Signature Needle Arts arrived today:


I bought the blue ones (size 5 US) last year for mittens and baby hats. The red ones were bought (size 2 US) this past fall. The green ones (size 1 US) arrived with the empty tubes I also ordered.
One fine day in the near future, I will fill that last tube with another set of DPNs...
* * * * *
And finally, a bit of the Tank. The girl is good about being a fairly non-drooly kind of basset hound.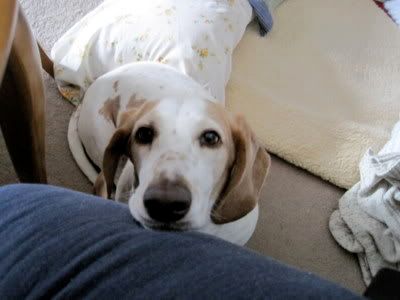 Sure, when she gets super excited about smells and especially food and/or animal scents, she's a bit damp. Nothing I can't handle...except for this one:
What you see is the only human food she's allowed due to belly issues with her, Fage Greek style yogurt. I have eaten 99% of the snack cup. There's barely anything left. Tank never whines, she just sits patiently.
For plain 2% yogurt, nothing added to it.
And she drools.
Here, take a closer look:
DROOL SPOTS. And this is actually quite a bit less than what drips off her jaws (yes, *drips*)...Why?
My pants took up the excess this time: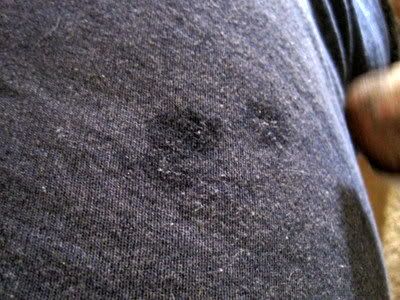 It's not as though the girl doesn't have six kinds of doggy treats and good dog food she's fed every day of the week. Yogurt. Boring, 2%, Greek-style yogurt.
Gods help us all if I feed her meat.