The sweater
, she is frogged.
Off and on, until Thursday evening, I had been knitting what seemed like yards of 2x2 ribbing (it was actually 15 inches), and I arrived at the part of the pattern about shaping the neck area.
I didn't know what to do with the stitches that were parked on the waste yarn as instructed earlier in the pattern, and how the decreases were working to create the left front of the sweater. I was tempted to frog what I had, and then go to another sweater pattern for the yarn. However, I sent the designer a message asking for clarification on the instructions.
The designer did send me a reply, answering my question about the neckline and when I would go back and pick them up. I ripped back to where I started having problems and continued on with the pattern. I knit on it last night, then the Tank needed to go out, and then it was time to go to bed, so I left it in my studio.
I woke up this morning to knit on it a bit before going to go workout, and realized that I had no idea how the decreases were supposed to look. The pattern instructions continued to be vague, and the diagram is just a basic outline.
I went back to Ravelry and searched through people's projects that had worked on this sweater. About 50% had completed the sweater without much difficulty, however, they were not happy with the fit of it and did some major alterations.
The rest of the knitters that had this project, loathed it. They were having the same difficulties regarding the vagueness of the pattern directions. They ended up not finishing the sweater and frogging it or frogging it after they completed the body and were about to do the lace bit.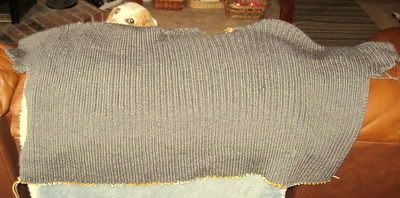 Tank: I have no affiliation with this Sweater of Creative Curses
A more explicit diagram or chart to show how the decreases should appear around the neck would have been very helpful.
Now I'm off to search for a sweater pattern that can use all these skeins of
Cashmerino
.