The usual January Ick arrived on schedule. Luckily, it was only a booger-making cold virus going around at work. Definitely not the seriously awful plague from the last two years that have hit me hard. Still, the honking and hacking wasn't pleasant along with a fever at the beginning. The last few days have been lost in fever dreams and bizarre four-hour nap dreams. On my waking moments, I made it to the couch to stare at the television (difficulty focusing on reading) and do some knitting.
This was a fairly quick and very hard to fuck up pattern for hand warmers. (Basically you knit a rectangle to fit the length of your hand as you choose, fold it in half, stitch up to where you want your thumb to be placed, then stitch up the edge.) And in neon pink.
I joked with my friend who received them that she may have this unexpressed fear of being lost in snowbank at night. This yarn practically glowed in the dark it is *that* neon. And I certainly didn't need my Ott light to knit when working on them.
Crocheted the top and bottom edges. Whip stitch to sew them up as the mattress stitch is too thick for fingerless mitts.
I've messed about with editing controls to try to reduce the amount of saturation, but no luck. Shield your eyes as needed. My friend, however, *loved* the color.
Down and dirty details:
Needles
US 8 - 5.0 mm
Yarn
Plymouth Yarn Encore Worsted Solids & Heathers
How much?
0.5 skeins = 100.0 yards (91.4 meters), 50 grams
Colorway
478 Neon Pink
* * *
Next up are the thrummed mittens that are so damned delightful and charming to me. It's the puffs of roving and the wee hearts the pattern makes. I'm linking the pattern
here
(you need to be a member of Ravelry, it's free, to view it) so you can access the Yarn Harlot's pattern and my additional four billion photos of them.
These are going to one of my favorite people when I see her this weekend for breakfast (now that the plague's younger sibling has moved on). Although with this insanely warm winter (we had a short spell of negative temps in December), I'm not sure she'll be able to use them this season. Then again, it is only January and we've the entire bleak month of February to get through yet.
The blue of the yarn is most certainly not neon in its hue, that's the Ott light making it glow. It's a more deep blue, I refer to it as Tardis blue.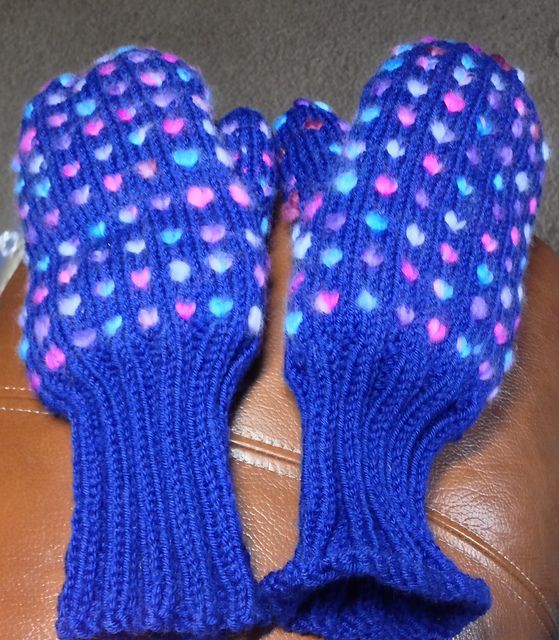 Down and dirty details:
Needles
US 7 - 4.5 mm
Yarn
Cascade Yarns 220 Superwash®
How much?
1 skein = 220.0 yards (201.2 meters), 100 grams
Colorway
813 Blue Velvet
* * *
I'm now working on completing another cowl for one of my adopted daughters. The Grey Smoke Cowl (link on the side bar to my Ravelry page). It's lusciously soft and if I liked grey, the delightful Kerri would be in danger of never receiving it.
After the cowl, I've two hats and a wrap that I'm looking forward to knitting. No new stitches like the brioche to learn, but I do have another color that I'm not fond of knitting with on one of the projects.
Lavender
. However, it's a gift for a friend. And if I can make it past the neon pink, the lavender shouldn't be too tedious.