1. Bake savory andouille sausage and apple breading pudding* (recipe cleverly disguised as bread stuffing/dressing) to take to the daughter's for Christmas lunch (me).
2. Doze in sunshine (Tank).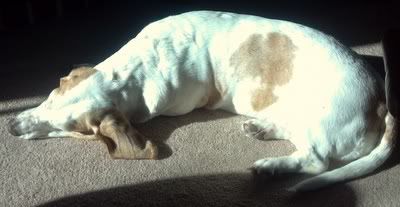 3. Watch documentary on Monty Python and work a bit more on the kimono-style sweater for Miss Mallory, while stuffing/dressing/pudding bakes, before going off to workout (me).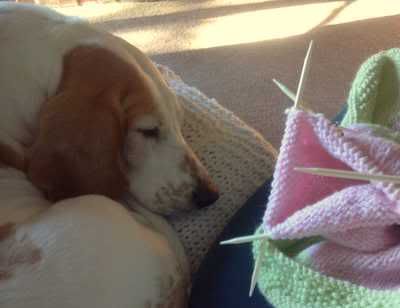 4. Realize the obvious: Miss M's sweater will *not* be completed by Christmas evening. The best hope is for December 30th completion date thereby making it the last completed project for 2011.
5. Go workout so that one may eat 1/3 of one's body weight in delicious bread pudding at dinner.
*The recipe was from Epicurious with the trial-run at Thanksgiving. The recipe below is my adaption, and quite frankly, it's even more delicious. (
I also had to remove the milk component due to my body's dislike of anything dairy from cows; there's not enough butter per serving in this recipe to hurt me, luckily, so it's still included.
)
2 tablespoons vegetable oil
1 pound pork bulk sausage
1 pound andouille sausage
2 cup diced celery
1 large white onion diced
8 apples (various kinds) diced peeled cored
2 bay leaves
2 lbs total of French bread loaves, 1-inch cubes with crusts
2-3 cups low-salt chicken broth
2 tablespoons butter, melted
3 large eggs, beaten to blend
Heat oil in heavy large skillet over medium heat.
Add sausage; sauté until cooked through and brown, breaking into pieces with spoon, about 8 minutes.
Using slotted spoon, transfer sausage to large sheet lined with paper towels.
Add celery and next 6 ingredients to drippings in skillet. Sauté over medium heat until vegetables are soft, about 5 minutes.
Discard bay leaves. Drain mixture of any leftover drippings in a sieve. Place on another large sheet with lined with paper towels.
Combine apple mixture with sausage in large bowl.
(This portion may be made a day ahead. Cover; chill. Just be sure to reheat to lightly warm before continuing with the other directions.)
(
I changed the cooking temp and time below from the original, too. I cooked it longer and slower.
)
Preheat oven to 300°F. Butter 13x9x2-inch baking dish. Add bread to sausage mixture.
Whisk 2 cups of the broth, and melted butter in bowl to blend. Mix into stuffing; season stuffing with salt and pepper. Mix in eggs; transfer to prepared dish.
Bake uncovered until cooked through and brown, about 45-55 minutes.
Remove from oven, allow to stand 15 minutes before serving.
Try not to make obscene noises while enjoying it. (
Okay, this is also added by me.
)
**If you like stuffing with less moisture, add only 1 cup of broth. Adjust as you deem necessary.