1) You think about how your budget is not conducive to a trip to Knitting Nirvana.
2) You regretfully decline.
3) You check your work and college schedule.
4) You take the day off.
5) You rescind your decline of the invitation.
6) You put your cc in a locked filing cabinet.
7) You realize you are a weak, sad figure in the face of temptation.
8) You know you are not above begging and trading sexual favors for yarn that will make you regret living if you depart the show without it.
9) You take out your cc from the locked filing cabinet.
10) You write about your resolve to stick to a budget.
11) Your friend's husband mocks you and your budget talk.
12) You suspect he may be right.
13) You go into your studio, immerse yourself in the tubs of stash, flip through the shelves of pattern books, list out all your projects queued in Ravelry and the WIPs, you review your inventory of needles.
14) You blow your budget 5 mins past the door to the Marketplace.
15) You purchase a set of Signature Needle Arts DPNs that you already have in your supplies.
16) You realize that the friend's husband was dead-on about no such thing as a budget at Stitches.
17) You spot the sweater of your dreams.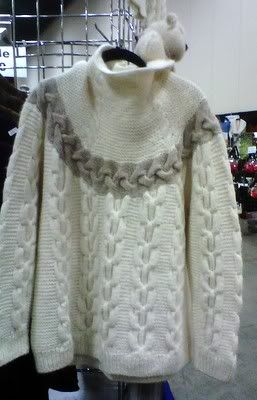 18) You purchase the pattern for said SoYD.
19) You meet up with someone who is always a delight to catch up with...even though the last time was at YarnCon a few years ago. He graciously pretends to know who you are among the vast hordes of his admirers.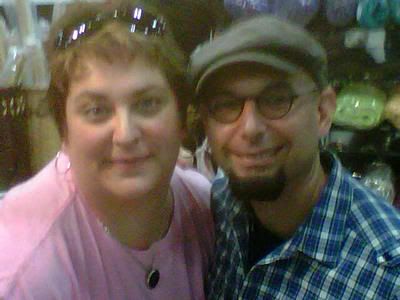 20) You help your friend spend some serious cash on a purchase after she models the knitted sample project she's been lusting after for the past few weeks. You remark, "Destiny." She buys the kit and book.
21) Your friend has to save you from yourself when you contemplate spending $500 on gorgeous alpaca yarn because she knows what a bitchy, pathetic person you'll be eating Top Ramen for the next 12 months.
22) You purchase some yak and cashmere yarn to take the edge off of coming down from the alpaca high.
23) It's not enough. Convince friend you want to go back to the alpaca booth, "just to get enough yarn to make a nice scarf. A nice FAT scarf. Big enough to sort of use as a mini-wrap." Friend is not fooled, but goes along to see the train wreck.
24) Chat with the wonderful owner of
Pajolo Alpacas
(Linda Peter), who understands your slightly wild-eyed desperation for the alpaca yarn, but helps you stick to the "just enough for a scarf" purchase. (Friend may have been in the background giving Linda the cue to "cut her off.")
25) Soft and weighty yarn sates you enough to keep you going through the market "just once more."
26) Shuffle through market bumping into others who also have the same stunned, glazed-over-eyes that you do.
27) Go on a quest for a yarn that your friend would like to score, and although you come this --><-- close to finding it, finally give up.
28) You and your friend decide it's time to leave when you realize you've entered into Knitting Hell and the marketplace has morphed into The Vendor.
29) You make the suggestion that the conference could make a shit ton of money by offering a tram you pay $5 per person to haul your tired asses out to your cars.
30) Ask friend if it's poor money management to hire a taxi sitting at the curb to drive you 600 yds across the parking lot to the car.
31) Realize by friend's laughter, she thinks you're joking.
32) Go to a fantastic restaurant where the friend treats you to dinner: Greek Village Taverna.
33) Enjoy dinner with friend, try and fail to convince her the fresh bread is "hideous," and flirt with the age-appropriate and charming Greek waiter.
34) Friend decides that after dinner, you're now engaged to charming Greek waiter...which may be true when the charming Greek waiter brought you delicious Greek food, you and the charming Greek waiter shamelessly flirted throughout dinner and dessert, you kiss charming Greek waiter thank you (Greek-style) when he brings amazing baklava you ordered and he's charmed you know how to kiss Greek-style.
35) 'Fess up to friend's husband when you get to their place that he was right.
36) Suck it up when he laughs at you.
37) Enjoy a hard cider drink with friend and trade witticisms on Facebook about the day.
38) Go home and smooch up on the Tank, who had a great day hanging out with her buddies while you were out of town.
39) Pet goodies picked up at Stitches.
40) Collapse into bed and sleep like a stone for 10 hours.
Many thanks to
Franklin
for taking a few minutes out of his precious downtime between classes and his shopping to chat (Iceland? Lucky.), and to Karen for letting me tag along and saving me from a diet of cabbage soup and Top Ramen noodles.