This week has been just one damn thing after another, ending with a love letter from a certain federal financial agency that just longs to discuss my finances from two years ago.
Fucking marvelous.
I do two things when I'm upset: eat and clean.
I resisted the urge to buy enough ingredients to bake for the zombie apocalypse, and instead indulged in microwave popcorn and A&W root beer.
As to the cleaning, I emptied my kitchen cabinets and cupboards, threw things out that I couldn't remember when I had last used them, reorganized said cupboards, and then did the same to refrigerator.
I moved on to the linen closet and then the bathroom.
Finally, my studio. I reorganized all the stash by color, I reorganized my drop spindles and the bit of fiber I have left from the last purge two years ago, rearranged my books and patterns, and then turned my eye to my winter wear tub. I had purged that two years ago, frogging any item I hadn't worn for a year (re-skein the yarns, washed them, and then put them into the stash again). I didn't have much that I don't wear in the winter storage bin, except for a shawl.
Remember this?
It's made out of the Malabrigo silk and merino, sport weight. It's been in storage for several years now. Mainly because I like wearing these more:

The alpaca wrap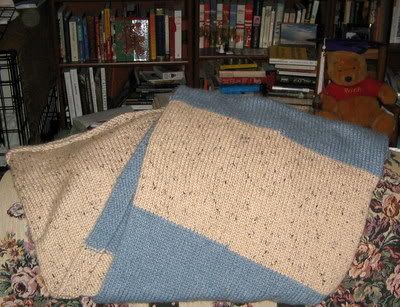 The bi-color shrug
So the shawl is going into the frog pond this afternoon, and the yarn will be lovingly washed and allowed to dry. I'll figure out what else to do with it in 2012.