No knitting, just deliciousness in the form of food.
Due to lactose sensitivity, I've had to give up cow milk in most of its form. I miss cheese, real whipping cream, cheesecake, frozen custard. I especially miss pudding. My ultimate comfort food. And mousse...silky, dark chocolate, blow your hair off your head rich mousse.
I finally found a good substitute. Tofu Chocolate Mousse. Stop making that face. It's *excellent* for pudding and mousse!
This is what I started out with: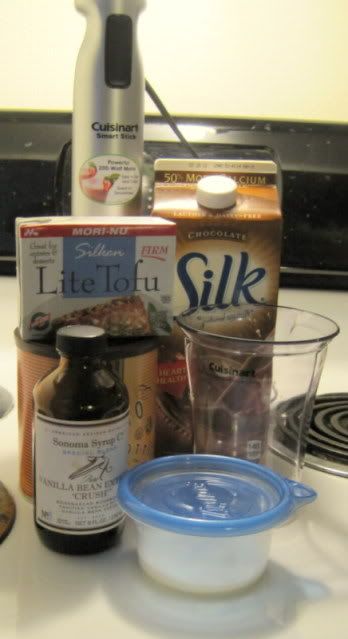 And the recipe I used is a bit altered from the
original recipe
:
Five-Minute Chocolate Mousse
(serves one)
4 oz Mori-Nu Silken Tofu Lite - firm (about 1/3 of the package)
1/8 tsp vanilla extract
1 tablespoon dutch-processed cocoa powder
tiny dash salt
up to 2 tablespoon Silk Soy Milk Chocolate
1 tablespoon sugar (sugar alternatives: stevia, agave, etc. to taste)
Procedure: Blend until smooth.
And this is what I ended up with:
It was smooth, silky, rich chocolate taste that was incredibly like pudding in mouth feel!
Suggestions to the above recipe: use Soy Almond Milk Dark Chocolate. If you want more of a mousse texture, use only 2 teaspoons of soy/almond milk.
And I have to say that I'm pleased with this Cuisinart CSB-76 SmartStick 200-Watt Immersion Hand Blender that I bought to replace the Braun that died a few years ago.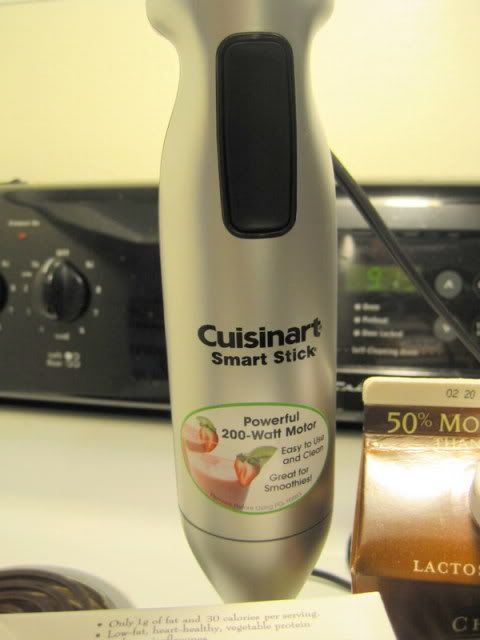 Now, off to finishing knitting sock #1 of the pair I need to complete in four days. Ha!