What do I get from knitting?
Most days, I go home and smooch on the Tank, then do chores. Then I do a bit of knitting to take the edge off before doing homework...if I have time.
I get to hang out once a week with a group of fiercely intelligent, talented, and funny women who will tell me I'm full of crap when I need to hear it, laugh with me as I tell about the ridiculous situations I get myself into, and support me when I need it the most.
I also receive some lovely gifts - this is a rice pillow filled with lavendar, with a soft fleece (removable cover) for when my back problems flair up. Carol is not only an amazing knitter, but a talented quilter, too.
Another gift is this pair of socks from the skilled knitter, Claire, who is also tenacious and finally got me to knit socks that I didn't want to set on fire. These socks that she knit are not only whimsical, but fit perfectly, too.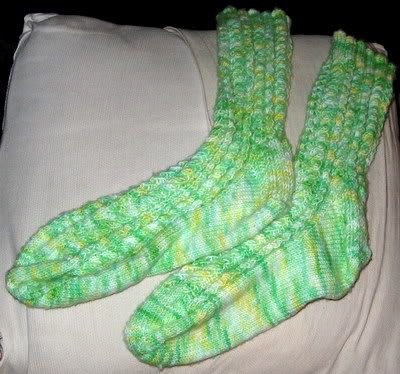 And finally, there is a gift I received this evening. It's from someone who I admire for her skill in lace knitting (and cabling, but I'm not going to go there tonight [
the cabled green sweater will one day be mine, oh yes, it will!
], ahem).
When we first met Karen, she was knitting a dress with mirrored sequins for a holiday work function.
And when we saw pictures of her in it, she looked like a graceful mermaid
. One member of the SnB decided it was perhaps time that she paid to be a member of the SnB (which is free) so that we could buy hooch to forget all the stunning items she's knit.
Tonight, I received a card to a gift bag that said she was giving me back some yarn I had given her a few years ago. I was confused, usually when I give yarn away it's because I've finally came to my senses and realized I had no business purchasing, let alone hoarding the yarn - and it was usually lace weight yarn. Lace that I have yearned and tried to knit. No, don't go there. I know when to give up when I have continually ended up restraining myself from trying to poke my own eyes with my needles when the lace experiment failed for the umpteenth time.
Anyway, so Karen was returning the yarn to me. This is how the yarn was returned to me: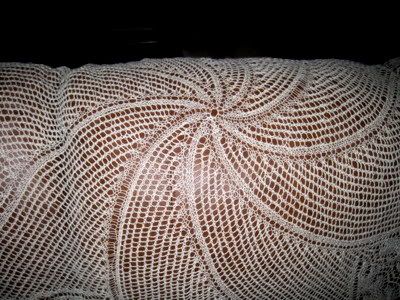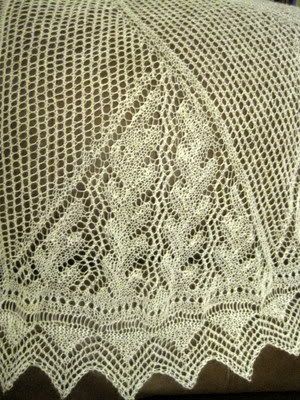 I'm stealing her photo so you can see it in all of its beauty.
(The woman had to call upon her college geometry class to block it!)
For all you knitters who know me, it's in a secret location. Don't bother trying to bribe Tank when you come over to "borrow" it.