So, I upgraded my operating software (OS) on my Blackberry (BB) Curve 8530 as directed by the BB gods when I got the info on my Blackberry Messenger (BBM).
Unfortunately, when I got the new and groovy OS after a 45 minute download, it blew out my BBM so that I couldn't access it any longer. *GASP* I use the BBM more than I talk on the phone and I can talk a blue streak most days.
Now the BB is at the store I purchased it from last year, so that the "data tech" can downgrade the OS to what I had prior the fiasco of an upgrade.
Bloody hell. It's like I have a limb missing. I was at the grocery store to pick a few marrow bone
bribes
treats for the Tank, and PANICKED! when I thought it odd I hadn't heard from someone I had sent a SMS text to...couldn't find the phone. I'm sure I looked like a maniac giving myself the equivalent of the TSA pat-down in the middle of the Health Market section. I was about to do a sweep of the store when I remembered I had dropped it off.
First it's having to use
Burt Bee's Foot Creme
first thing in the morning and just before bed to keep your skin from cracking like an old orange, then it's your memory that goes; so sad when you get old like this and I'm only 44 yrs old next spring.
So in my frustration last night of being cut off from the BBM, I started a pair of fingerless mitts inspired by the ones a friend made me a few years ago. A number of persons had asked for the pattern it was made from, it's the
Festivus Mittens pattern
without the tree pattern: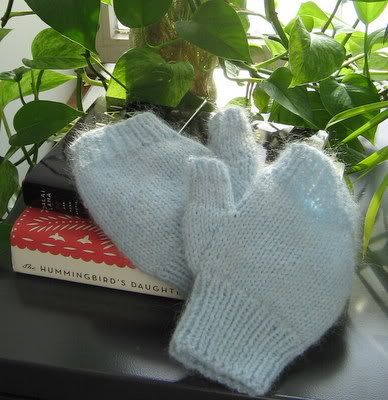 JW used Encore chunky and carried a strand of kid mohair with it to give a soft halo. I'm still using these mitts.
The ones I'm making are out of
Malabrigo Twist, in Tuareg
, size 8 Bryspun DPNs. I'm almost done with the first mitt, I should be done with the second one tomorrow.