I planned to drop down to Muscatine to visit
Serendipity
to see what she had in stock for baby cardigans that I'll be knitting in the very near future.
Some pale peach, pink, and white were the colors I was looking for, and lucky for me, found in
Berroco Baby Comfort
:
And damn if some sock yarn didn't follow me home: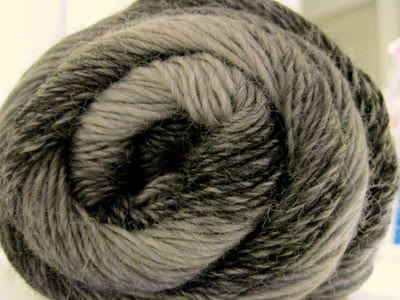 This is
Lang Jawoll Magic
in Grey/Black.
I will admit, I went also looking for size 1 US circulars for the
Zauberball Crazy
sock yarns (bought at
The Yarn Shoppe
in Davenport) that I have in my stash...found them!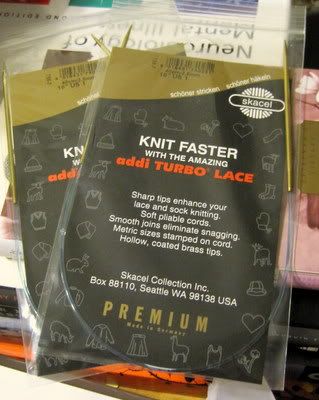 If this obsession continues with socks (thanks, C!), I may have to get a second job to pay for my habit. My savings is looking plenty sorry at the moment...and before I knew it, there were also some skeins of
Claudia Hand Painted
in my hands, then on the counter, then in the bag going home with me:
I blame the baby yarn. They love everyone, and the sock yarn looked pretty cozy and happy with them in the bag.
Hmm, and I may have had a slight accident on the
Signature Needle Arts
site last evening, where a set of these may show up in the next week:

Those would be size 1 DPNs, 6" length with stiletto points.
The only hesitation I have in using size 1 needles and the Zauberball Crazy yarns, I'm going to have do a refit as I knit it to figure out how much I need to have on the needles to fit my foot. Nothing else should change as my leg opening and heel closure won't have moved, unless someone has snuck in and lopped off my toes or heels a la Brothers Grimm version of "
Cinderella
." I think what I'll do is open the leg, knit up the pattern I want for that section, then close out the heel - I'm sure the row count will be a bit different with the slightly thinner yarn and smaller needles.
Meanwhile, I have a scarf to finish for myself. And a Tulips baby cardigan to knit by February 20th for a baby Savanah. And then a hat for the Guy to replace the one he gave away. Another Tulips cardigan (in worsted weight) for Miss Norah. Then Tulips (in the Baby Comfort yarn again) for the March baby. And the final Tulips (again in worsted weight) for the June baby.