Then much smiting and swearing the blue streak.
I was feeling fine with the CB socks, even to the point I cut the sock for the leg opening ( I'm going to refer to it as quasi-
steeking
).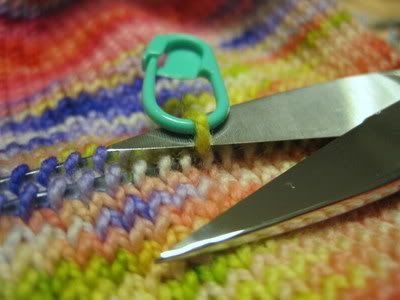 The skirmish that began at 10 pm and didn't end until I admitted defeat at 12:30 am is the fucking heel.
AGAIN
.
I did not shred the sock.
I did not burn the book.
Although I was close on both counts.
As I was washing my face and brushing my teeth for bed (swearing a blue streak) I realized it's not the pattern that's the problem, but the way my foot is shaped. Very wide and very long.
So I'm going to ignore the CB method for the heel. Where I should begin decreasing, I'll use
EZ's after-thought heel method
.
For now, and this is not for the weak of stomach or heart, let's look at the carnage: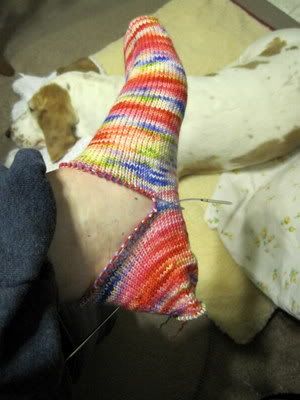 This is not a heel for a human being. Maybe the start of one for the Kraken, but not for a human.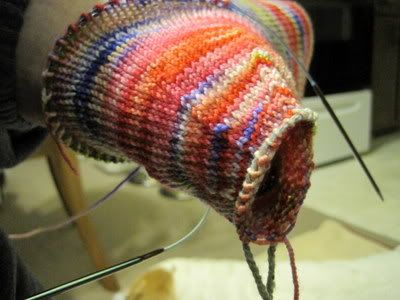 Look at this, will you? You could fit a small limb in there!
In fact, I thought about tentacles when I looked at this fiasco.
So I began the tedious process of tinking:
All the way back to many rows prior to the "heel" line that was supposed to be so wonderful in helping me place a heel without much fuss.
RIGHT
.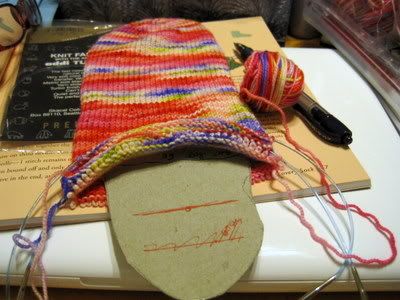 The sock with at 12:23 a.m. today:
The sock and items at 12:30 a.m. (I did contemplate vile and violent methods for a total of 6 minutes. It only took one minute to throw it in the project bag.)
And Tank? During all this drama? Pretty nonplussed about it all: