Welcome back to the Plague House, Episode: Cough, Hack, and Wheeze.
In between fits of my body determined to hurl a lung out the window to thwart the healing powers of the antibiotics I'm taking, I managed to finish my fingerless mitts: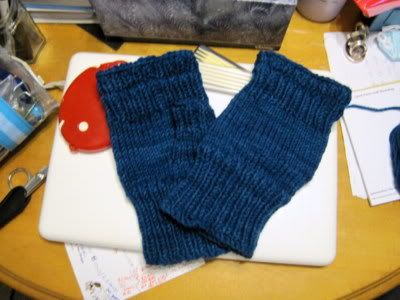 * * * *
The down and dirty details:
Yarn(s): Malabrigo Twist, in Tuareg
Purchased:
Loopy Yarns
, Chicago
Needles: size 8
Time: for me - 16 hours; for most knitters, 6-8 hours
* * * *
Thus ends the week of finished objects. Let us hope it's also the end of the Plague House.
Now I'm off to take a much needed nap. Tank is way ahead of me.